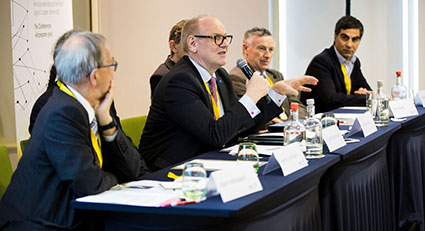 The morning panel discussion raised a range of questions for debate.
The issue of regulation of technologies for security and risk was raised, and revealed a range of views on how to test and certify, and to maintain such an approach. The question of liability for products claiming to be cyber security products was suggested to be beyond current regulation, and required more attention. It was generally emphasised that liability for risk in software / hardware is an extremely complex area, and further underlines the need for railways to ensure usage of the most secure solutions so as to avoid risks.
Further discussion highlighted the need for railways to train and equip staff as specialists in cyber security. Debate underlined lack of maturity within railways in relation to this new area of challenges, and there is clear opportunity to share knowledge and experience around training to deliver the new capacities required.
The exchange of cyber security information was discussed in the context of common occurrence reporting, but speakers noted differences in objectives and the difference in focus. The special nature of Cyber Security may not easily be fitted into the current project which, in itself, faces difficulties in acceptance by Member States, some of which question the need for information exchange around physical safety (the original poject focus).
Other discussions focused the need to encompass all digital technologies that may provide cyber security risks, and the need to continually update that perspective, as well as each railway recognising and addressing system changes within a well-managed cyber security strategy.