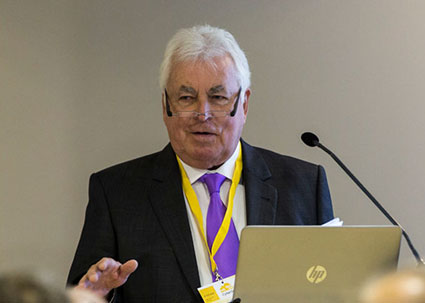 Helmut Grohman, Chair of Hit Rail, opened the conference and identified that digital security must be in the DNA of the Railway Sector. Herr Grohman shared many examples of recent security breaches that demonstrate widespread practices putting data, information and control systems at risk. Practices inside and outside organisations, as well as company arrangements for cyber security, indicate a broad range of risks arising from technology and people – their relationship is crucial. Herr Grohman emphasised that there are no easy technical solutions to management, but there are management solutions to technology and people. We need to manage technology and people in ways that ensure security, and we can only do that through cooperation in a European sector where everything is interconnected and therefore interdependent.
Herr Grohman clearly states criminals are often one step ahead of so-called security experts, and so time to react is becoming vital - we are in the middle of an intelligence race – and we need to win!
It was noted by Karin Helmstaedt, the conference moderator, that Mr Junker in his "state of the union address"1 emphasised cyber security, and noted that "wannacry"2 affected systems in 150 countries – no country and no organisation is free from the attention of cyber criminals, and collaborative improvement of cyber security is the only remedy.
GuardarGuardarGuardarGuardar