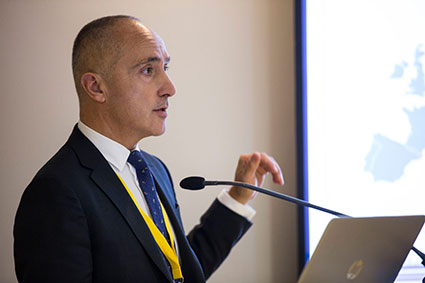 Carlo Borghini, Executive Director of Shift2Rail, provided a keynote closure by addressing the panel debates. Sgnr Borghini noted that we are in a sector whose nature, whose IT, and whose services are evolving rapidly with innovations in many quarters.
Shift2Rail was illustrated as a public-private partnership R&I platform for railways working together to drive innovation till 2024. User-centred mobility is emphasised as a priority – putting the user first.
The main conclusions are that advancement starts at the top (cyber hygiene1); done by design; moving from behind to the leading edge; building trust and cooperation within the "railway intelligence community" together with those who can bring outside expertise.
Progress towards a Rail ISAC must define objectives, participation, exchange of information (including with CSIRT/CERT), events reporting, solutions, working together, etc... but not by over-regulation.
Sgnr Borghini concluded that from this very constructive conference we must take away the messages on how to collaborate together in practical ways, reducing replication and divergence, sharing innovation in combatting cyber threats, making Railways safer.