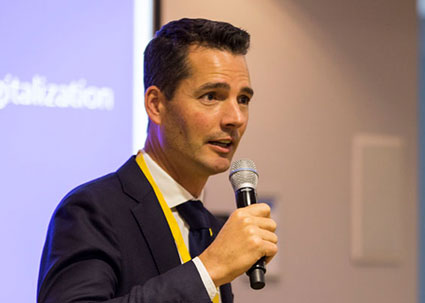 Mr Guus van Es, General Manager BT Consulting, shared the Telco perspective on cyber security. Mr van Es summarised the BT position on cyber security, addressing Internet of Things (in Trains), Digitalization, Cyber, Big Data and analytics Compliance, among other technical aspects relevant to cyber security.
An overview of risk quantification was presented and shown to be key to cyber security strategy. It was shown how numerous companies' cyber journey may start with denial (e.g. "not my problem"), but soon moves to worry (relevant news awakens), through learning, to then achieving a sound approach.
Cyber security is a business risk because it arises from IT improvements or changes that provide new attack opportunities. Continued innovation will ensure continued risk, and so we must continually evolve our approach. As a sector, Rail needs to understand the need to collaborate (reduce efforts, costs, and risks by sharing), and to follow leading standards and practices.
Cyber threats demand risk management, so we need to consult with practitioners, and should learn lessons about agility, even in policy making.