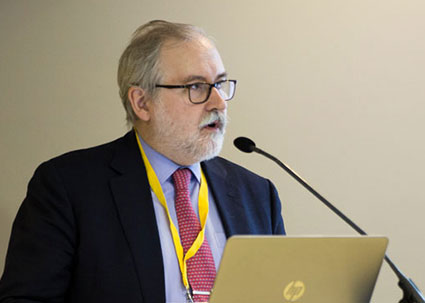 Carlos Mestre, Head of DG Move Unit "Security" presented the broad coverage of security issues addressed by DG Move, and confirmed the rapidly growing emphasis on cyber security, including focus on the Single European Rail Area (SERA). It was noted that traditionally, security relies on "inspection", and until now the idea of inspecting firewalls, etc., was a challenge, but it is increasingly the case that organisations emphasise deployment of good practice, and we can examine if and how good practice is deployed. The threat from cyber-crime and the recent impacts were considered in some detail, and it was noted that 80% of EU companies experience at least one cyber security incident, with many companies experiencing numerous attacks. The impacts and potential impacts on the transport sector are increasing, and cyber is recognised as the new frontier in fighting crime. European Commission advice and guidance on prevention of cyber-crime has been published and updated since 2013, and it is clear that we need to keep updating our knowledge of threats and solutions, not just annually but continuously - and so cooperation and exchange of knowledge is critical. While many organisations are capable in dealing with cyber security, the Commission emphasises the need to support all business, and to reduce fragmentation in the cyber security market – this will include a certification scheme for cyber security products.
The NIS directive includes emphasis on transport, and on collaboration between regulators, governments, business, and especially operators of "essential services" to exchange knowledge and cooperate in ensuring European resilience, especially of critical infrastructures. However, each Member State may interpret NIS requirements differently, and so in European transport we need to ensure a common understanding, supported by common guidelines and best practices. Cyber Security needs to become a core part of business operations and business continuity thinking. The lack of cyber security knowledge in staff dealing with routine IT practices is a challenge, and DG Move aims to deliver a toolbox to support training of staff in this regard.
It is up to all of us to implement measures to fight cyber-crime, and none of us can do it alone.