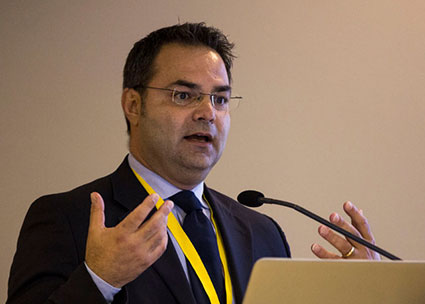 Romolo Buonfiglio, Senior Executive, Information Security, Almaviva, presented some perspectives from a railway IT provider.
As a leading IT provider, Almaviva supports passenger and freight transport operators, infrastructure managers, port authorities, local authorities engaged in developing and managing local integrated passenger mobility systems and services, as well as "last mile" logistics providers. In all areas, the key issues remain the same – understanding vulnerability, developing avoidance and mitigation strategies, remaining up to date on new threats and challenges as they emerge.
The cited Gartner report1 shows ~ 7% CAGR spend on Cyber Security. Some case study examples were provided, including mobile fraud as well as methods for intelligence and analytics, each providing examples applicable to railway considerations and highly relevant to the idea of sharing experience and solutions.