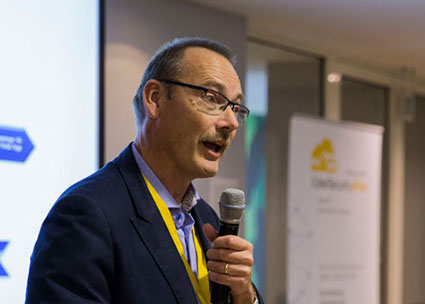 Gertjan Tamis, Information Security Officer, NS, provided cyber security perspectives from a European railway operator emphasising Train IT. Mr Tamis emphasised how NS started with practical solutions rather than policies. A train is conceived as a "data centre on wheels", connected to a network that coordinates other data centres on wheels. Threat modelling uses a risk-based approach, noting that both external hackers and insider threats can challenge passenger wi-fi, comfort IT, and train IT. These are points of interest to be protected, and are connected via networks, so can provide routes to other systems and processes.
Prevention is the key, and relies on careful management of traffic to ensure nothing can happen that should not. To achieve that, certain challenges must be faced:
Train suppliers should collaborate on cyber security:
Include security requirements in RFI and RFP (request for information / proposals).
Assist in interpretation of requirements.
Continuous communication and open exchange of information.
Create a common understanding of risks using a standard process covering:
Business Impact Analysis.
Threat and Vulnerability analysis.
Risk Determination.
Selection and implementation of controls.
Implementation testing for security.
Lessons from practice at NS also indicate a need to:
Specify Information Security Requirements beforehand.
Protect all software (logical and physical) up to current levels of security standards.
Include physical security as an important aspect (safety versus cyber).
Ensure train builders comply on process level. It is harder to improve hardware level when buying off-the-shelf trains.
Define an internal process to manage residual risk including stakeholders and ownership.
NS experience demonstrates that Information technology enables new business and operational models. Information security for Train IT is quite new but is key in keeping trains safe in the (very) near future. Threat analysis provides a good basis for mitigating risks efficiently. Close co-operation is needed (Rail Operators; Suppliers; Maintenance Companies; Regulators).
While many of these messages emphasise Train IT, they can be generalised to the wider networks to which trains are connected, and on which they depend.