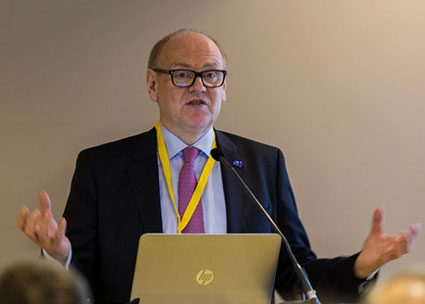 Josef Doppelbauer of European Agency for Railways (ERA) welcomed the broad awareness of cyber security brought by the previous speakers, and brought the focus to railway-specific considerations. Herr Doppelbauer noted that railways themselves need to cooperatively identify the real risks to essential service operators in railway transport. We have a European Rail Area, yet we also have National rules, regulations and languages. The European rail policy aims to make rail more competitive, and has been very successful to date, especially around technical interoperability and safety. The remaining challenges of rail innovation, being largely focused on customer requirements around mobility and logistics, is even more dependent on digital technology. This is a disruptive innovation, bringing changes to very mature practices, and emphasising the security concerns. The multi-modal transport chain, including rail, requires data exchange between a wide range of actors and between a wide range of systems – their interconnection is the main risk to security.
While we are focused on data and the transport activities that depend on it, we must remember we are considering a range of critical life issues – security of passengers, security of freight, security of passenger- and freight-related data, and security of people and environments through which dangerous goods pass.
Current work is addressing a range of issues using different approaches. CENELEC standards on cyber security, along with the Shift2Rail response to rising demand for transport capacity, are also supported by the ERA Action Plan which takes account of emerging issues around cyber security. The ERA Action Plan development includes collaboration with other areas examining common interests (e.g. Maritime) and supports the formation of a European Rail ISAC1.