Hit Rail envisions a modern European railway environment which is even more effective, collaborative and value-for-money than it is now. The vision is in full alignment with the existing policies of the railway international bodies, and reflects the European Union's strategic goals for rail transport.
Hit Rail's unique value proposition is based on its constitution as a collaborative venture among the participating railway entities. Hit Rail's business is built upon choice among the railways in providing high quality services at a reasonable price, as well as trust among its stakeholders developed and nurtured over more than 20 years through collaboration and consensus. These have been the two fundamental ingredients of Hit Rail's business up to the present. In short, Hit Rail's business is the railways' business. 
In order to provide value and better services to its shareholders and customers in the coming years, Hit Rail decided to move up the value chain beyond its existing IP-based Virtual Private Network (VPN), while capitalising on its unique value proposition as a "network" of choice and of trust for the European railways.
The Hit Rail Strategy 2011-2016, adopted by the Supervisory Board in January 2011, empowers the company to offer not just network services, but also software-based services to enable interoperability and to support small Railway Undertakings (RUs).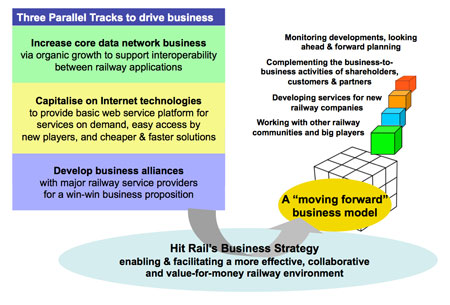 The strategy is based on is based on three pillars: 
Increase the core data network business via organic growth to support interoperability between railway applications. 
Capitalise on Internet technologies to provide a basic Web service platform for services on demand, easy access especially by new players, and offering cheaper and faster solutions to meet the market challenges. 
Develop business alliances with major railway services players for a win-win business proposition. 
The strategy recognises that Hit Rail is a provider of utility services to the railway community to:
enable interoperability between cross-border railway applications; and
catalyse the development of the more customised and high-end, value-added service offerings of other players in the railway industry*. As such, Hit Rail provides service support and cooperation to both customers and partners, not competition.
Full strategy presentation: [view:documents==RAC-Presentation]
Under the new business strategy, Hit Rail is committed to:
Collaborative partnership with railway stakeholders
Alignment with EU policy direction and support to DG Move promoted interoperability
Provision of a cost effective private VPN for the bigger players and support growth in Hermes network usage including low cost access for the smaller players.
Incremental rollout of a SOA-compliant Web service hub to target the needs of existing and new railway companies and support TSI implementations
Continuous investment in the new Web services
Update and extension of the existing Hermes Open Systems Architecture (HOSA) standards for Hermes to include Web services technology 
* In accordance with the vision of "ISU - Interoperability Service Utility" published by the European Commission DG CONNECT in relation to Future Internet Enterprise Systems (FInES, http://cordis.europa.eu/fp7/ict/enet/ei_en.html).